Angela Damon, Executive Director
Angela graduated from The Ohio State University in 2006 with a Bachelor of Arts in Psychology. She is certified in NOVA Crisis Response Training and Psychological First Aid. Angela is a QPR (Question Persuade Refer Suicide Prevention Gatekeeper) Master Trainer and is a certified trainer of Working Minds: Suicide Prevention in the Workplace, CALM (Counseling on Access to Lethal Means), and Mental Health First Aid.

Angela started as a volunteer with LOSS in 2017. She has since taken on many roles including overseeing Suicide Prevention Initiatives and now as the Executive Director. Through her life experiences and relationships, Angela has seen firsthand the power of hope in even the darkest times and believes hope is a beautiful and precious gift that any person can offer to another.
Amy Zell, Suicide Postvention Event Coordinator
After losing her 16 year old son, Tyler Neral, to suicide in 2009, Amy developed a passion around suicide prevention and awareness. As former co-chair of the Youngstown Out of the Darkness walk in its initial debut, Amy began providing programming in the Hubbard, OH area for both the AFSP's More than Sad initiative and observation of the International Survivor of Suicide Loss Day. Amy is a certified QPR (Question Persuade Refer) Trainer and has her master's degree in library and information science. Her second passion is in the field of library and community makerspaces, believing that utilizing Maker Empowerment Theory Method can assist in changing how we perceive the world.
Amy's previous employment includes serving as a teen librarian, working with Opportunities for Ohioans with Disability's through Goodwill for workforce development, and digital skills training. Amy resides in Brookfield, OH with her supportive husband and family. Amy joined LOSS in 2020.
Myrriah Clarke, Social Media and Marketing Coordinator
Prior to becoming involved with LOSS in 2021, Myrriah worked at NovaCare Rehabilitation in Patient Satisfaction and Marketing, at the Hilliard Area Chamber of Commerce as an Events Coordinator, and for a now-defunct local band as a Production Assistant. She spent eight years volunteering for the Arthritis Foundation, three of which were on the Planning Committee for the Columbus Walk to Cure Arthritis. She earned a Bachelor of Science in Public Relations from Franklin University, graduating summa cum laude and on The President's List and receiving a Raymond E. Mason Scholar Award.
Myrriah's drive in life is to better the world around her, focusing on encouraging mental health care and its de-stigmatization, animal welfare, reducing environmental impact, and spreading empathy and kindness. She loves traveling and creative outlets, is learning Norwegian and Italian, and lives in Columbus with her husband and three spoiled cats. Myrriah considers it a great honor to be part of the LOSS team and have the opportunity to further their mission of being an instillation of hope to those bereaved by suicide.
JoJo Taylor, Survivor Resources Coordinator
JoJo has advocated for mental health awareness since she lost a close friend to suicide in 2015 and began to address her own struggles with depression. When her mom died by suicide in 2020, JoJo became fully devoted to furthering the conversations around suicide, grief, and mental health. She started volunteering with LOSS in 2021 and joined the LOSS staff in 2022.
JoJo has a Bachelor of Science in Electrical and Computer Engineering from Ohio State University. She previously spent several years at Honda as an electrical engineer and engineering coordinator, focused on optimizing manufacturing processes, robot automation, and safety policies. JoJo is a volunteer companion for ViaQuest Hospice and enjoys crafting in her free time. JoJo lives in Marysville with her husband and two cats, Buttons and Bagel, (and many unfinished craft projects).
Jude Grant, Volunteer Coordinator
Jude became aware of LOSS in March 2017 when two volunteers arrived at her home the night her daughter, YeJin, died by suicide. LOSS became an invaluable source of information, love, and support during the difficult times that followed. Jude started to volunteer in 2018 in the hopes of helping others where she found that facilitating support groups and the remembrance bear events are her favorite ways to give back. In 2022 she retired after 31 years at The Ohio State University which allowed her to join the LOSS staff as the volunteer coordinator.
When not at LOSS or OSU Men's basketball games, Jude can be found crocheting, baking, or caning chairs (and sometimes crocheting during timeouts at the game).
Glenn Stephenson, President
Glenn is a Financial Services Specialist for Nationwide Retirement Plans, providing administrative experience since 1990. Glenn is a survivor of suicide. As an advocate for suicide prevention, awareness, and education, he served on the Suicide Prevention hotline for 19 years. During this time, Glenn provided training and mentorship to new volunteers, as well as serving over 3500 hours of phone coverage. Determined to find additional ways to reach out to a hurting community, he teamed up with LOSS Community Services to create policy, procedures, and training around postvention services. Glenn is passionate about good coffee and advocating for children to release them from abject poverty through Compassion International. He sponsors children in Brazil, Indonesia, and Mexico.
Adam Craig, Treasurer
Adam joined LOSS in fall of 2014 after searching for non-profit opportunities on VolunteerMatch, specifically looking for organizations that could use help in accounting and finance. After speaking with Denise, the LOSS founder, and hearing her story, he was inspired to join the organization.

After joining the Board, his first action was to help LOSS become a 501c3 organization, which took a little over a year but has been well worth it as LOSS has grown to the organization it is today. As the Treasurer, his main role is to maintain the official financial books of the organization, as well as being responsible for official reporting requirements such as tax filings and audit reports. Adam considers working with LOSS one of the great honors of his career and is incredibly thankful to work with such wonderful people, both those who officially work for LOSS and the amazing volunteers who allow it to do it's great work every day.
Adam works for Nationwide Insurance in the corporate strategy department, focusing on financial services businesses. He lives with his husband, Alex, in Weinland Park, along with their dog, Max, and cat, Rose. They enjoy traveling, particularly to New York City and the Bay Area of CA, where they try to go at least a couple times a year. They also love to spend time with their families, including lots of nephews and nieces, and are hoping to be blessed enough to build our own family soon.
Dallas Allen, Member at Large and Coroner's Office Representative
Dallas is a 2017 graduate from Muskingum University. During his time at Muskingum, he developed a strong desire to work within the field of individual and family services. Since graduation, he has gained vital experience working with individuals who suffer from various mental health issues and has helped them cope with those complications.

In July of 2021, he became the nation's first Suicide Investigations Specialist that is based in a Coroner's office. To date, he has completed over 100 in-depth psychosocial interviews with friends and family who have lost loved ones to suicide.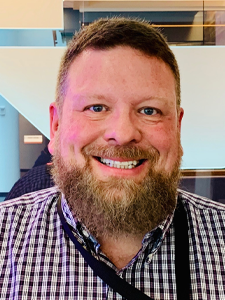 Brian Foss, Member at Large
Brian has lived in central Ohio nearly all his life and has over 28 years of professional experience as an educator, adjunct professor, training manager, and business consultant. He is a certified Project Management Professional (PMP) and has a degree in Education from the Ohio State University and a master's degree in Pastoral Studies from Loyola University New Orleans. He has worked at Chase since 2007 and currently serves as a performance improvement manager. Brian is a suicide survivor and volunteered for three years taking suicide hotline calls at Suicide Prevention Services before joining LOSS Community Services. He lives in Mount Vernon with his partner of 25 years and their five dogs.
Ryan Berrigan, Member at Large
A lifetime resident of central Ohio and a graduate from the Fischer School of Business at Ohio State, Ryan joined LOSS in 2020 after 8 years of volunteering with Nationwide Children's Hospital. Ryan felt driven to serve through LOSS because of his personal struggles with mental health. Ryan knew he wanted to make an impact in the community that has given him so much, so when he found the opportunity at LOSS, he knew it was the perfect way to give back.

Ryan has spent 9 years at Worthington Industries working in various roles such as New Product Development, Mergers and Acquisitions, New Business Development, and currently serves as the Manager of Strategy and Innovation for one of their business units. As a member of the Board, Ryan hopes to use what he's learned at Worthington Industries and apply his strategic thinking to help the organization.

He currently lives in central Ohio with his wife, Emily, son, Hudson, and their two pets, Lola and Pete. Ryan enjoys OSU, Crew, and Blue Jackets, traveling, and spending time with his family and friends.
Jodi Zellers, Member at Large
Jodi Zellers has served as a LOSS First Responder since 2019. She learned about the organization after she lost her cousin to suicide and LOSS provided her family with hope and resources. Jodi loves working with her fellow volunteers, getting to know them and hearing their stories, and continues to be inspired by their strength and courage.
Jodi is the Regional Grant Manager for the Mount Carmel Health System Foundation. She takes great pride in raising much needed funding to support Mount Carmel's mission of bringing hope, healing and compassionate healthcare to those in need. She has over 20 years of non-profit experience in fundraising and grant writing.
Jodi holds a Bachelor of Arts degree in Business/Organizational Communication and Psychology from Otterbein University. She enjoys hiking, running, traveling, and reading. Jodi lives in Lewis Center with her husband, Drew, has two adult children, Emerson and Gabriel, and two dogs, Tara and Morrie.
Denise Meine-Graham
Denise founded LOSS Community Services in 2014 after her 19 year old son, Drey Meine, died by suicide in 2012. Under her leadership, over 5,000 suicide loss survivors received support and, most importantly, hope. Denise led LOSS Community Services through 2021.
Denise now leads the Ohio Postvention Infrastructure Development as a contractor with the Ohio Suicide Prevention Foundation. She also works with communities and states across the country to support loss survivors with effective care through suicide postvention programs. Denise is one of Dr. Frank Campbell's associates and she serves on the National L.O.S.S. Team Conference Committee. She is a passionate speaker and advocate for suicide loss survivors.
Volunteers are the heart of the Community of Hope!